NEW PHASE III 'STEALTH' 2400 WHIPPLE SUPERCHARGER KIT
BLOWN POWER WHILE KEEPING YOUR GENUINE LOOK UNDER THE BONNET!
SUIT: BOSS 5.4L MODULAR ENGINES FOR FG MODEL FORDS
NEW PHASE III YT WHIPPLE SUPERCHARGER KIT "ABSOLUTE STEALTH"
The latest and greatest power upgrade for the Ford Boss V8 has just got better, with the
introduction of the NEW Phase III version of the 2.4L Twin-Screw Whipple supercharger kit.
This new and improved version retains the "absolute stealth" design but now with its all in one cast
design has allowed us to create a larger plenum and runner design for even more power and torque
potential. The new design boasts a 50% larger intercooler core, which in conjunction with Whipple's
Twin-Screw efficiency gives you unmatched cooling capacity and manifold discharge temps for
consistent power at all boost levels, in any conditions. Professionally engineered in Australia to
ISO 9001 standards and the base kit is ADR compliant in all states. This is still the ultimate bolt on
supercharger package giving you amazing low end torque, mind blowing power while maintaining
everyday drivability.
THE WHIPPLE DIFFERENCE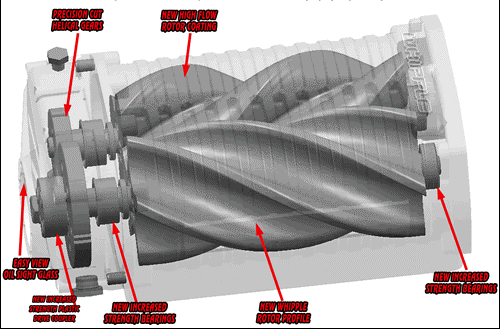 NEW PHASE III FEATURES:
•Latest Generation Whipple 2.4L Twin Screw Compressor
•New all in one cast manifold for less heat soak
•50% larger single pass internal intercooler core
•30% larger manifold plenum design for maximum HP potential
•20% larger CNC ported intake runners for improved torque and flow
•Ultimate STEALTH design fitting under factory throttle lid and covers
•Independent 8rib Drive system STD for maximum belt grip for hi boost applications
•60lbs Hi flow injectors to suit factory wiring plugs
•Unique Triple Pass, 40mm thick, Alloy Intercooler Front Radiator Core
•Full Colour, step-by-step fitting instructions
*Price excludes install and tuning
KIT OPTIONS AND UPGRADES:
Part Number: SC 1582D-8 / SC 1577D-8 / SC 1574D-8 / SC 1571D-8 / SC 1567D-8 / SC 1564D-8
Blower drive pulley upgrades: 82mm, 77mm, 74mm, 71mm, 67mm and 64mm
Part Number: SC 15200-8
Upgrade crank pulley: 200mm
Part Number: YT 5400LIDBK
Hi-Flow Planum Lid to suit twin throttle bodies in Black
Part Number: YT 5400TBWT
Whipple billet black twin 75mm blade throttle body
Part Number: YT 5400TBW
Whipple billet black 1900cfm mono blade throttle body
Note: Package only available with BLACK Plenum Lid
**** BLUE PLENUM is for illustrative purposes only ****