LARGEST, MOST POWERFUL, MOST EFFICIENT
FRONT ENTRY, SUPERCHARGER SYSTEM IN AUSTRALIA
Yella Terra is Proud to Offer our Twin-Screw, LS Supercharger Range.
SUITS: VF-Series SS – SSV – GEN-F HSV Commodores
VF 2900 WHIPPLE ENFORCER KIT
**NOW WITH WHIPPLE'S NEW IMPROVED GEN#3 ROTOR DESIGN**
VF GEN#3 2900 ENFORCER PACKAGE
Yella Terra's new VF-Enforcer Range eclipses all other positive displacement supercharger systems on the market today!
Utilizing Whipple's ground breaking new Intercooled 2.9L Front Entry supercharger with now improved Gen#3 rotor design, YellaTerra have re-designed & engineered this kit as a complete bolt on package and to fit neatly under the factory VF bonnet.
The Whipple Package gives you the factory OEM look under the bonnet with its sleek new design which maintains the factory air box and MAF and uses a custom billet in-line 6Rib for the blower drive with a HD tensioner which will handle up to 12-13psi and 500 RWKW of Whipple power! If you dare to go higher you can upgrade your drive systems at time of purchase or down the track to our Billet 8Rib inline system or 10Rib Independent drive system.
Also available are various drive pulley options for different boost levels making this kit suitable for both Standard and Highly Modified applications.
"Don't be talked into running a small capacity Roots based 2.3L or 2.6L blowers because that's the largest they have! This results in over spinning or over driving the smaller blower trying to achieve the power figures the Whipple handles with ease. This inefficient over driving or high rpm in smaller blowers creates cavitation causing very high intake temps, low boost results, and premature wear and damage. Larger the supercharger the less it has to rotate to produce the same power!...which equates to better efficiency and more reliable power delivery, protecting your engine!
Yella Terra's Unique Enforcer design with a central throttle location, allows any brand of standard naturally aspirated OTRs to be used..
With unmatched 2.9L capacity, twin-screw efficiency, and massive integrated intercooler, combines to make the VF Enforcer Kit the most powerful and most reliable supercharger system available in Australia.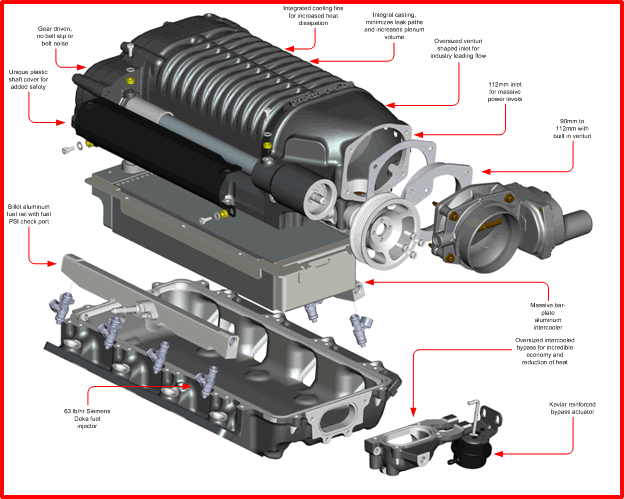 ALL NEW GEN#3 ROTORS
The Gen 3 features all new 3/5 rotors that feature a new updated rotor profile and new advanced manufacturing methods, allowing more accurate and tighter tolerances along with increased efficiency. Each Gen 3 rotor also features a later generation robotically sprayed conformal rotor coating, allowing the rotor clearance to conform to the operating conditions and application. The Gen 3 also features upgraded double lip PTFE rotor seals for higher RPM, higher temp and higher pressure ratios.
The Gen 3 also features revised port shape for increased rotor filling and decreased turbulence, resulting in increased overall supercharger efficiency. What does all this mean? More power, more power, more power! By decreasing leakage, discharge temperature and power consumption lower, resulting in increased power to the flywheel, all while maintaining the same boost levels.
During extensive testing on multiple applications, both Whipple and 3rd party testing found gains from 30RWHP up to 150RWHP depending on blower speed and engine specifications. Standard pump gas applications can easily make another 30RWHP with no other changes. Just bolt on and unleash the power of your stock application.
VF (STAGE #1) PACKAGE FEATURES:
Complete bolt on package, fitting under the factory VF series bonnets.

No other upgrades required, just massive power right out of the box

Front Entry Integrated 2.9L Whipple Twin-Screw Compressor which outperforms competitions 1.9L/2.3L/2.6L roots-type systems.

Self-contained oversized oil system for dramatically reduced oil temps in even the most demanding conditions
Integrated Crusher ™ venturi shaped inlet for maximum airflow capacity and minimal rotor cavitation.
Integrated Crusher ™ 112mm round inlet for optional Yellaterra 102mm throttle bodies.

Massive water to air bar-plate intercooler system offering more cooling capacity than any other positive displacement system.

More power per boost than any other smaller roots based kits.

Unique intercooled, oversize bypass system reducing charged air temps and incredible fuel economy.

Will 'not' run out of puff on larger capacity, stroked or modified engines.

Black Anodized Billet fuel rails and Hi flow 65lbs injectors

In-Loop Billet 6-rib belt system with heavy duty spring loaded tensioner and adjustable idler system. (8Rib Upgrade available)

Large 4" Intake system utilizing your Factory Airbox and MAF. (OTR upgrade available)

OEM quick connect fittings and molded bend hoses for easy installation.

Multiple boost options available.

7-13psi Pulley setup (Multiple boost pulleys available)

Kits come complete with all necessary parts & hardware for install.

Australian manufactures warranty and back up tech service.
*This kit doesn't include install or tune.
KIT OPTIONS AND UPGRADES:
Part Number: YTENFORCER-OTR
VF OTR cold air intake upgrade. Click Image or Part Number for Pricing
Part Number: YT6000TB-102
Natural Finish 102mm Drive-by-Wire Throttle Body. Click Image or Part Number for Pricing
Part Number: YT6000TB-102BK
Anodized Black Finish 102mm Drive-by-Wire Throttle Body. Click Image or Part Number for Pricing
Blower drive pulley upgrades: 82mm, 77mm, 74mm, 71mm, 67mm and 64mm
Call us on (03) 9555 5522 for more info!